Tax Penalties and Settlements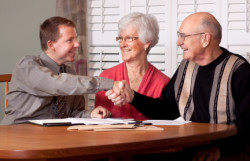 When you're buried in tax penalties that just keep getting worse, it can feel like the end of the world. Luckily, tax settlements exist that can help you lighten your load and get your finances back on track. You'll likely need help from a tax professional in order to secure a favorable tax settlement, and that's where Acello Tax Resolution Group comes in. Our network of tax debt reduction specialists is equipped with the skill and knowledge you need on your side when negotiating with the tax authorities. From lifting a crippling tax penalty to petitioning for a form of IRS debt forgiveness, we'll work tirelessly to bring you relief. If you live or own a business in Albuquerque, call or e-mail us today to schedule your initial consultation!
There are a variety of IRS settlement options available to you, depending on your eligibility. These include:
IRS penalty abatement: If your delinquent payments and paperwork are due to circumstances beyond your control, it may be possible to have IRS penalties removed from your balance.
Offer in compromise: If the total amount you owe is above what you could repay in a reasonable amount of time, this tax settlement can reduce your debt balance.
Installment agreement: It can be difficult to pay large tax debts in a single lump sum. We can help you negotiate an installment payment plan, breaking your debt into manageable monthly amounts.
Wage garnishment cessation: The government can withhold a portion of your wages to cover your unpaid taxes. We'll petition to have that withholding stopped and negotiate an alternative taxes settlement to help you pay back what you owe.
Innocent spouse relief: Have you been hit with a current or former spouse's unpaid tax bill? Innocent spouse relief can clear you of having to pay the price for your partner's delinquency.
Lifting of liens and levies: If the government has laid claim to your assets, Acello Tax Resolution Group can negotiate the lifting of those claims. An alternative IRS settlement can help you pay your debt without losing your assets.
Our network of tax attorneys, CPAs, and enrolled agents will work with you to determine which taxes settlement is best in your specific case. We put quality workmanship first, and we believe that customized tax settlements are the most effective. Put your tax penalties and other problems in our capable hands, and look forward to a brighter future.
Get IRS Tax Relief Fast
If you have a tax penalty, lien, or levy attached to your account, time is of the essence. The longer you wait to resolve that IRS penalty, the worse your situation can become. That's why Acello Tax Resolution Group makes quick response times one of our top considerations. We'll strive to meet your needs fast without ever sacrificing the quality of our services. If you're ready to navigate your IRS penalties and your settlement options with help from qualified tax consultants, you've come to the right place. Acello Tax Resolution Group is here for you! Call now for IRS tax relief in Albuquerque. 
Tax Penalty Help
Tax Settlement
Tax Fees and Resolutions
Tax Penalties
IRS Settlement